Not strictly gardening related, but if you decide to grow zucchini you'll need a few ideas for using all of it. Trust me, zucchini is the gift that keeps on giving.
FunFoodFact
:

One zucchini is packed with more than 50% of the RDA for Vitamin C!
5 ideas for enjoying your extra zucchini
1) Chocolate cake
You can make the moistest (is that even a word?) breads and cakes ever by adding grated zucchini!
I made some with a delicious recipe from Two Peas and Their Pod. It was hands down the best chocolate cake I've ever had.
Here's the recipe!
I modified it by using mini chocolate chips and only using half the measurement.
Trust me, it's super chocolatey!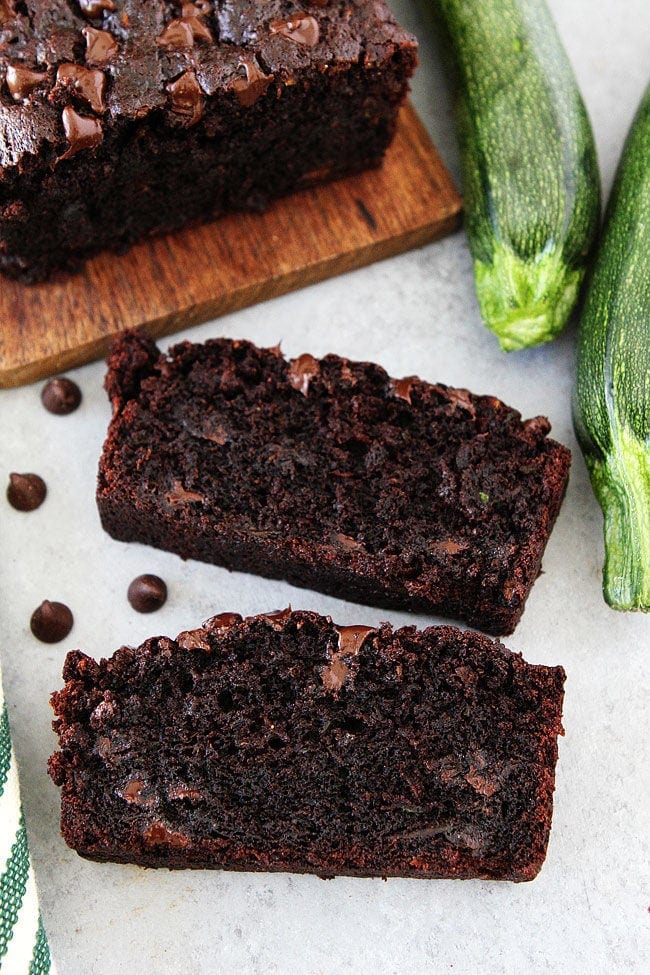 Recipe and picture from twopeasandtheirpod.com
2) Make it disappear in other food dishes
If you're getting tired of eating zucchini, or if your kids/partner won't eat it, you'll love this. You can stir in several grated zucchinis to spaghetti sauce, mac 'n' cheese, gumbo, etc (while it's cooking) and it virtually disappears into the dish! For super picky eaters, just peel it and they'll never know it's there.

3) Make "zoodles"
Get it? Zucchini + noodles = Zoodles!
Have you tried this yet? Zucchini works with almost any kind of sauce, as a replacement for pasta. It's easiest to make "zoodles" with the right
kitchen tool
. They're inexpensive and you can use them for making other veggie "noodles" too.
4) Freeze it to use later
I'm generally not a fan of frozen vegetables, but I find shredded zucchini to be incredibly versatile for cooking, so once we've eaten our fill of zucchini for the season and we've shared plenty with the neighbors, I grate up the rest and stick it in the freezer to use in the dishes I mentioned earlier.
5) Zucchini blossoms are edible, too! Try stuffing them with cheese and frying them. Check out
this recipe from The Curvy Carrot.